29 May 2020
Vet Show Team – Best in Show(s)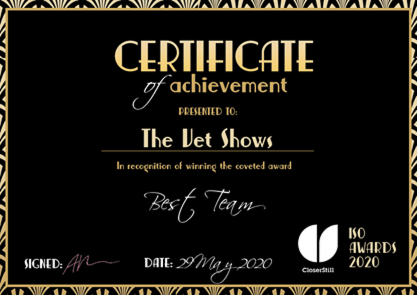 The team behind the global Vet Shows, Vet Show Academy and the Vet Show World Series are today are celebrating a different type of award than usual. The all-female team have won an in-house award of the Best Team in Isolation at CloserStill Media.
The champion marketing and content team have previously won prestigious industry awards for their work on the London Vet Show such the AEO Excellence Award for Best Trade Show, Exhibition News Awards for Best Marketing Team and Best Use of Social Media. Now, "the Vet girls" have been identified by their peers as the best team at Closerstill Media since lockdown. The "Iso Awards" were held via zoom and created to help employees elivate pressure during lockdown.
"The lockdown across Asia, Europe and US has actually brought our global team closer together than ever before," said Charlotte Ellicott, Head of Content and Marketing for the Global Vet Show Portfolio.
"We are certainly facing different challenges than we usually do at this time of year. However at the very start (of it all), we agreed that we wanted to stay true to our the Vet Show's core value of giving the veterinary sector high quality, engaging education – no matter the circumstances. I think our most recent developments reflect this. That and it's hard to ignore the passion and energy the girls bring to every task, even from afar." Said Ellicott.
Since lockdown began, the Vet Show team have launched Vet Show Academy – a full catalogue of webinars recorded at the global vet shows, available on demand. They've also just announce the launch of Vet Show Global Series – a limited run of live, RACE-approved webinars presented by world-famous veterinary educators.
"It's lovely to be recognised by our peers. And there's plenty more in the works, too." Said Rachel Kilmartin, Vet Show's Europe & Asia Marketing Manager. "We love serving veterinary professionals and believe that they deserve the best of the best when it comes to CPD. So all I can say when it comes to the next phase of the Vet Show brand is…watch this space!"
Choose CPD webinars on Vet Show Academy
Read More about Vet Show Global Series